Things You'll Need
Paper towels

Hydrogen peroxide

Cloth

0000 steel wool pad

2-inch paint brush

Wood stain

Polyurethane varnish

3-inch paint brush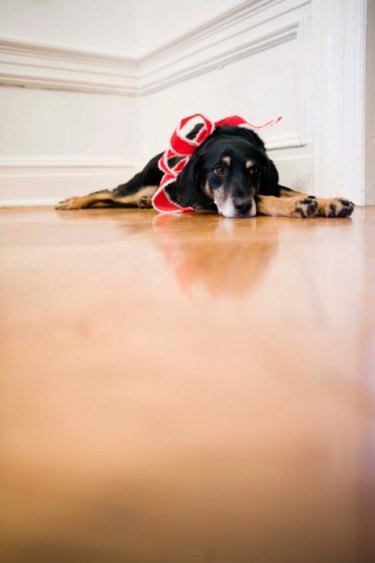 Engineered wood flooring is finished wood glued onto several pieces of wood. Engineered wood floors, like hardwood flooring, can absorb liquids such as urine, which will create dark, hard-to-remove stains. The urine stain requires a product that can pull it from the wood flooring, not only to remove the stain, but the odor as well. You can repair urine stains on engineered wood floors with the right cleaners and tools.
Step 1
Blot up wet urine stains with paper towels. Avoid wiping the urine, as it only spreads the stains across the floor.
Step 2
Pour 2 to 3 tbsp. of hydrogen peroxide on a cloth. Saturate the urine stains with the peroxide from the cloth. Keep the peroxide on the stain only. Examine the stains every 10 minutes.
Step 3
Wipe the hydrogen peroxide from the wood floor after the stains have disappeared.
Step 4
Sand the area with a 0000 steel wool pad if needed to remove small dark areas left by the urine. Rub gently, working with the grain of the wood. Inspect the wood after every two to three rubs, and stop when the blemish disappears.
Step 5
Dip a 2-inch paint brush into matching wood stain and cover the affected area if needed to match the rest of the flooring. Allow the stain to dry overnight.
Step 6
Apply a polyurethane varnish to the stained area to give it a protective finish. Dip a 3-inch paint brush into the varnish, and slide it over the lip of the can to remove the excess.
Step 7
Brush the varnish over the affected area of the floor, moving in one direction. Turn the brush over, and starting at the beginning, glide it over the area again. Brush the area twice more, ensuring you remove any bubbles or beads of varnish. Allow the varnish to dry for 24 hours.
Tip
Rinse the stain and varnish from the paint brushes right after using. Allow them to sit on paper towels to air dry.
Remove urine stains as soon as you discover them for easier removal from wood flooring.