Things You'll Need
Delta miter saw

Shop vacuum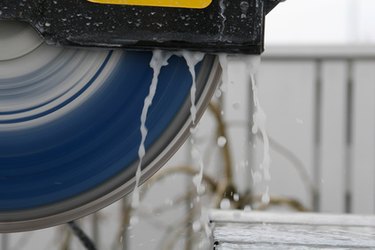 A Delta miter saw is an important tool in any household. If your tool shed is running out of space, you can minimize the saw's size by locking the arm of the miter saw in a downward position. Locking the miter saw also protects the arm, blade, hinge and electrical interior of the miter saw from damage and shields the saw blade to prevent you from cutting yourself when moving it. Before you lock the arm of the miter saw, it is important to clean the entire saw before storage.
Step 1
Turn off your miter saw, and unplug it from the wall.
Step 2
Empty the dust collection bag of all saw dust. Remove the bag from the miter saw and unzip the bottom of the bag to dispose of the dust.
Step 3
Switch on the shop vacuum and carefully vacuum away all sawdust from the saw bed, blade and arm. Make sure to clean away any dust or small fragments of the wood from the arm's joint, where you will be locking the Delta miter saw into the closed position. This will help the miter saw close easily and help to prevent damage to the joint.
Step 4
Place your hand along the handle on top of the miter saw's arm. Push the miter-saw arm downward until it can't move any further. Hold the arm down.
Step 5
Find the knob at the bottom of the miter saw arm with your other hand. Press the knob inward, towards the center of the miter saw, until it clicks and can't go any farther.
Step 6
Release your hand from the top of the miter saw. The miter saw is ready for storage.