Things You'll Need
Mulch

Anti-desiccant spray

Wooden stakes

Burlap

Staple gun

Snow shelter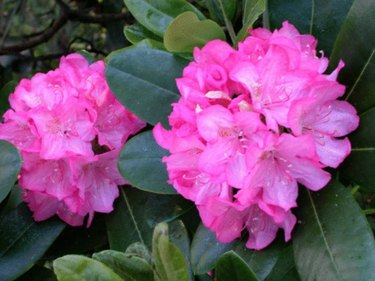 Rhododendrons are evergreen plants that are low maintenance and hardy. They flower in the summer and the foliage adds color to the landscape during the winter. Rhododendrons will resist injuries in the cold weather, but they need to be grown under favorable conditions. You need to protect the flowers from the winter by caring for them properly to ensure that they do not sustain injuries like bud kill or leaf burn.
Step 1
Add 2 to 3 inches of mulch around the rhododendron to protect the roots. Keep the ring 2 to 3 inches away from the trunk.
Step 2
Cover the rhododendron plant with an anti-desiccant spray before the first frost arrives. This will ensure that the leaves do not lose moisture during the winter. Follow the directions on the product to ensure that you apply it properly.
Step 3
Avoid fertilizing the plants after July. This will ensure that new growth won't appear just before winter.
Step 4
Water the plants well until the first frost. When the ground freezes, they will not be able to extract water from the ground as well.
Step 5
Protect the rhododendron from strong winter winds with burlap. Place two wooden stakes on each side of the rhododendron plant and then staple burlap to them to create a screen.
Step 6
Install a snow shelter, a small structure that look like a tepee, over the rhododendron to keep snow accumulation off the plant.