Things You'll Need
Palm ash

Fine mesh sieve

Bowl

Olive oil

Teaspoon

Plastic wrap

Clean cloth

Lemon juice (if needed)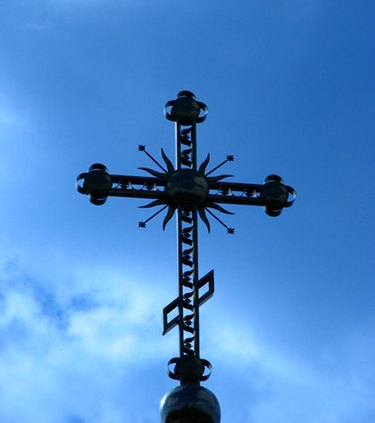 The ritual of applying a mark to the forehead of palm ash and oil on Ash Wednesday marks the beginning of the season of Lent for many Christian faiths. The mark is an outward sign of the believer's repentance and commitment to renewal of their faith. The actual act is referred to as the "imposition of ashes." Celebrants mix palm ash with oil and apply a daub to the worshipper's forehead either as a single mark or in the shape of a cross. The person is then to wear the mark until it naturally rubs off, although it is acceptable in most faith communities to remove the mark the next morning.
Step 1
Sift the ashes into a bowl using a fine mesh sieve using the back of a teaspoon to push the ashes through the mesh.
Step 2
Add one or two drops of olive oil to the ashes in the bowl and mix with a teaspoon. Mix the ash and oil until the ash begins to stick together, the mix should have a pastelike consistency. Add oil or ash until the mixture is right.
Step 3
Cover the ash and oil paste with plastic wrap until ready to use to prevent anything from falling in and contaminating the mixture.
Tip
Wipe the ashes off using a clean, dry cloth. Use a few drops of lemon juice to clean the skin if the ash doesn't wipe off completely.
Warning
Never mix palm ashes with water or use water to clean the ash mark off skin. Palm ash mixed with water can burn the skin, according to the General Board of Discipleship.