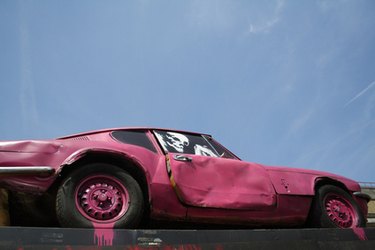 It is important to determine a vehicle's title status before purchasing it. A vehicle's value is significantly less if it has a bad title because it can not be registered or legally. Some title issues to check are a rebuilt or salvage title. Also check for any liens on the title.
Step 1
Locate the car's vehicle identification number. The VIN is located on parts of the car's body and frame. It also can be found on the title, insurance or registration paperwork.
Step 2
Perform a vehicle history search using the VIN. There are several different companies that generate vehicle history reports including CarFax and AutoCheck.
Step 3
Evaluate the vehicle history report for title problems. Title problems include a salvage or rebuilt status. Also look to see if the vehicle previously was reported as totaled or a lien listed on the title.
Step 4
Call your local Department of Motor Vehicles and provide them with the car's VIN. They may be able to provide you with basic information about the title, depending on state and local privacy laws. Some states enable you to check the VIN and title status online. Others require the car's legal owner to call for the information.
Tip
To reduce the chance of title problems, make sure the information on the car title corresponds with the information you have about the car. For example, make sure the person selling you the car is the person listed on the title as the legal owner.
Warning
Not all vehicles with title problems will have them on public record. Not all severely damaged vehicles have been legally deemed totaled.