Things You'll Need
Fiberglass patch kit

Medium- and fine-grit sandpaper

Isopropyl alcohol if not supplied in kit

Lint-free cloth

Chemical-proof gloves

Disposable mixing container

Small putty knife or wooden craft sticks

Cardboard or other thick disposable surface for mixing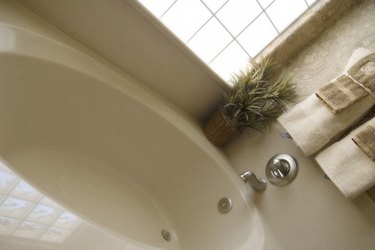 Fiberglass is a material often used for bathtubs and showers in many newly constructed homes. Fiberglass is impervious to water, lightweight, durable and less expensive than cast-iron tubs or tiled showers. But fiberglass is not indestructible, and it can get damaged. A common fiberglass repair job in homes can occur when a bathtub cracks or chips, or when a shower door is removed from the stall. If the new door's screw holes don't line up or a shower curtain is going to replace the shower door, then the screw holes in the fiberglass surround must be covered.
Step 1
Sand the damaged area lightly with a medium-grit sandpaper to remove any rough edges from the fiberglass.
Step 2
Clean the area around the hole in the fiberglass with alcohol on a lint-free cloth. It's important to remove any residue from soap, hair products or bath oils. This will help assure that the patch adheres completely to cover the hole in the fiberglass .
Step 3
Lay a thick piece of cardboard or other thick disposable material to protect the area where the chemicals will be mixed. Put on the gloves before mixing the fiberglass bonding compound.
Step 4
Mix the ingredients according to the manufacturer's directions in a disposable cup or bowl following the color guide given so the product will match the color of the fiberglass. Mix the resin compound as thick as possible for vertical repairs to lessen the chance of runs.
Step 5
Lay the fiberglass patch from the kit over the hole. Use the putty knife or craft stick to spread the bonding compound across the surface of the patch. Add it thick enough to thoroughly cover the cloth patch and let it overlap the patch on all sides.
Step 6
Allow the fiberglass bonding compound to dry completely according to the manufacturer's recommendation from 12 to 24 hours.
Step 7
Sand the fiberglass patch with the fine-grit sandpaper. Sand only enough to smooth the surface but not enough to expose the patch.
Warning
Open a window for ventilation if possible. If the room doesn't have a window, use a fan to direct the fumes away from you and to improve air circulation.