Things You'll Need
Transfer sheet pattern

Scissors

Heat-resistant tape

Mug

Mug press

Cool water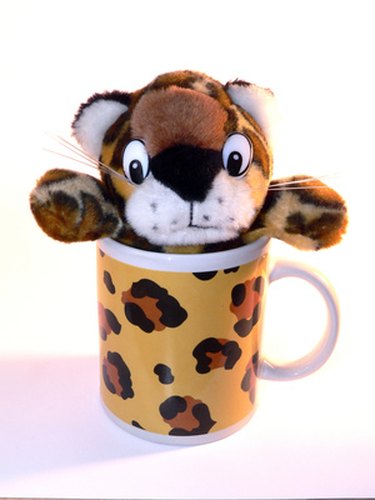 Customized mugs allow you to express yourself and make thoughtful gifts for the coffee and tea lovers in your life. Though commercial customizable mugs cost a pretty penny, screen printing mugs at home costs only as much as you need to pay for a mug press and transfer paper. Screen printing mugs is not like screen printing T-shirts. Instead of painting the design, you use a transfer sheet to adhere the design to the mug.
Step 1
Cut out your transfer sheet pattern, making it about ½ inch shorter in height and width with than your mug. For instance, a mug 5 inches high and 7 inches around requires a transfer pattern about 4 ½ inches high and 6 ½ inches long. Transfer patterns come with your mug press. You may also purchase them online.
Step 2
Place the transfer pattern pattern-side down on your mug. Tape it along the edges and under the mug's handle with heat-resistant tape. Make sure there are no ripples in the pattern. Make sure the pattern is straight.
Step 3
Place the mug in your mug press with the handle sticking out of the slot in the cylindrical mug holder. Adjust the temperature on the left side of the press panel to 400 degrees Fahrenheit and the time on the right side of the panel to 5 minutes.
Step 4
Push down on the mug press handle until it clicks into place. When the timer beeps, lift the handle back to its starting position.
Step 5
Fill your sink about halfway with cool water. Lift the mug from the press by the handle; the handle may be warm, so use a towel. Peel away the transfer paper. Your screen print design should show up clear and shiny on the mug. Cool the mug in the water for about 5 minutes.
Tip
Mug transfer printer paper is available at craft and computer supply stores. Create your own designs with a computer paint or graphic design program. Print it and transfer using the above steps. Transform plain mugs you can get in bulk into sellable items. Dollar and craft stores often sell plain mugs at a discount. Add them to your current business or sell them at craft fairs on the side.