Things You'll Need
Shellac-based primer/sealer

1 small foam paint roller

1-inch foam brush with pointed edge

Bronze acrylic paint

Brown acrylic paint

3 clean, lint-free rags

2 clean paper plates

Clear shellac

1 1/2-inch paintbrush

0000 steel wool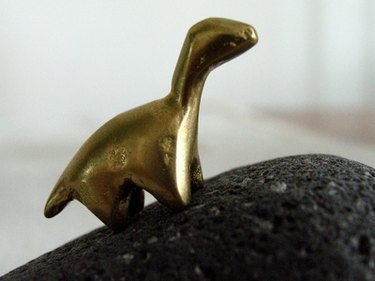 In order to truly change a chrome finish to a bronze finish, you would need to strip the chrome and have the item replated with bronze. This requires a specialist and can be expensive. Instead, you can create a faux bronze finish on a chrome item. Since chrome is such a slick surface, you'll need to start with a primer to make sure the paint you apply will stick. Then you'll create a bronze look using craft paint.
Step 1
Clean the chrome thoroughly. Apply a layer of shellac-based primer/sealer to the chrome with the foam roller. Use the foam brush to apply primer/sealer in any corners or hard-to-reach areas. Allow it to dry 45 minutes.
Step 2
Slightly dampen each clean rag. Squirt bronze acrylic paint onto one half of a paper plate and brown acrylic paint onto one half of a second paper plate. Dip one rag into the brown paint and pat off the excess. Then pat the rag randomly onto the primed surface. Dip the second rag into the bronze paint and repeat the process. Continue layering the paint until you get the level of texture you want. End with a bronze layer. Allow the item to dry overnight.
Step 3
Apply a coat of clear shellac with the paintbrush. Allow the shellac to dry. Rub the shellac with steel wool in light, small circles until you have decreased the shine of the shellac to the level you want. Wipe the item with a clean cloth as you go to remove any dust or particles.
Tip
Use more bronze on areas that will catch the light, such as raised surfaces. Add more brown paint in the recessed or shadowed areas.