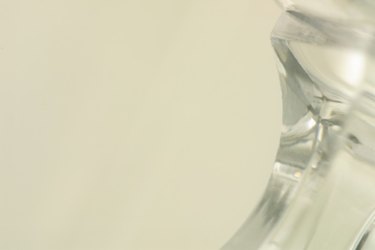 Swarovski is the brand name of popular crystal pieces, fashion accessories and luxury goods manufactured by Swarovski of Austria. Swarovski is a respectable trademark known within the luxury jewelry business. Swarovski crystals are well-crafted, high quality crystals. Knowing how to spot a fake Swarovski crystal will help you save money on fake crystal products that use the Swarovski trademark.
Step 1
Look for the official Swarovski hologram sticker on the packaging. A genuine Swarovski packaging will have an authenticated silver hologram sticker with the words in caps: "SWAROVSKI ELEMENTS."
Step 2
Look at the shape of the crystals. The height, width and slope of a Genuine Swarovski crystal are consistent. Since Swarovski crystals are machine cut, each crystal is similar. An imitation will have different dimensions and will not have a uniform cut.
Step 3
Look at the quality of the surface of the crystal. A genuine Swarovski will sparkle and have no scratches, fogginess or swirl marks. An imitation crystal will appear foggy and have scratches and swirl marks.
Step 4
Look inside the crystal for bubbles. Genuine Swarovski crystals are clear. Imitation crystals will have bubbles.