Things You'll Need
Cast iron skillet

Steak of choice

Salt and pepper

Oven mitt

Olive oil

Butter (optional)

Plate

Aluminum foil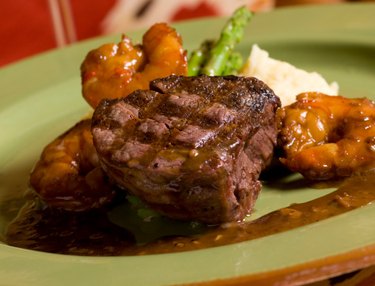 Steak dinners are hearty and delicious, filled with bold flavors and simple components like baked potato, steamed veggies, and wine. In order to make the perfect steak, many chefs recommend first searing the steak on the stove before finishing it in the oven. This process allows the meat to have a delicious crust on the outside while the inside is still tender from the semi-slow cooking process from the even heat of the oven.
Step 1
Place a cast iron skillet into your oven and preheat oven to 500 degrees Fahrenheit.
Step 2
Pat each side of the steaks dry with a paper towel to promote the perfect sear. Sprinkle generous amounts of both salt and pepper on each side of the steak and rub it in with your hands.
Step 3
Remove the preheated cast iron skillet from the oven and set it on a stove burner. Set the burner to the highest setting. Add a tablespoon of olive oil to the skillet and allow it to heat up for a few moments.
Step 4
Place the steaks into the hot skillet. There should immediately be a very loud sizzling sound as the steak sears. After two minutes, flip the steaks. Sear the other side for two minutes as well.
Step 5
Set the skillet back into the oven to finish. If preferred, add a dollop of butter over each steak before the transfer.
Step 6
Leave the steaks in until they are done to your liking. For medium rare, the steaks will be done in 2 minutes. For well done, 4 to 5 minutes is required.
Step 7
Transfer the steaks to a plate and cover with foil. Allow them to rest anywhere from 5 to 15 minutes, according to how large the steaks are.