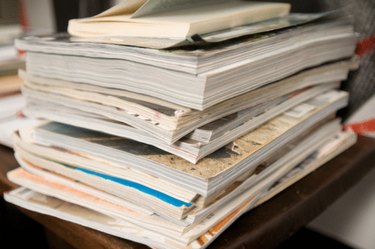 Besides the nuisance factor of receiving loads of catalogs you didn't ask for and don't want, there's the environmental impact of direct-mail catalogs. More than 100 million trees are chopped down each year to sustain the production of junk mail. This includes more than 12 billion catalogs mailed each year to the roughly 118 million addresses in the United States, according to statistics from the U.S. Postal Service.
Call the Catalog
Step 1
Call the toll-free customer-service number listed in the catalog. Tell the representative you would like to be removed from the catalog's mailing list. If you can't find the toll-free number, you can write a short letter. In it state your name, home address, and the customer account or key number listed on the catalog you received (usually found next to the mailing label), and write "Please remove me from your catalog mailing list." Send the letter to the address listed in the catalog.
Step 2
Go to the Catalog Choice website (see Resources section) and sign up for an account. This free service allows users to easily opt-out of catalog direct-mail lists, rather than spending time contacting each catalog themselves. Catalog Choice delivers your request to the catalog(s) you select. Everything is in one spot.
Step 3
Call the Direct Marketing Association at 212-768-7277, Ext. 1500. Add your name to its "do-not-mail list." The association works to remove your name from direct mailing lists. Similar to Catalog Choice, the Direct Marketing Association also offers a free Web service designed to help you manage unwanted junk mail (see Resources section). You can also submit opt-out requests on credit card offers and magazine offers at the Direct Marketing Association site.
Step 4
Hire a junk-mail service if you'd rather have someone else do the legwork. For a small fee, a junk-mail service will work to remove you name from direct-mailing lists.