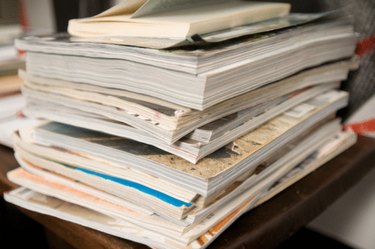 Remember the thrill you got as a child when mail would come to your home addressed to you? That thrill probably wore off a long time ago, right around the time you started receiving bills, junk mail and random catalogs addressed to you. It's annoying to open your mailbox and see it jammed with mail you didn't want, not to mention the environmental impact of all that wasted paper. Getting yourself removed from a catalog mailing list is worth the few minutes of effort it takes.
There's no one simple way to permanently stop catalogs from coming to your home. The United States Postal Service and/or your individual mail carrier can't do anything to help since they're obligated to deliver any mail that's addressed to you. The only way to cancel catalogs is to go directly to the source: the company or companies that send them to you. You can do this yourself as each new catalog arrives in your mailbox. Check the front or back of the catalog for contact information and call the company to ask to be removed from the catalog mailing list or visit the retailer's website to see if there's an opt-out form you can complete online.
You can also cancel catalogs using a service that sends opt-out requests to companies on your behalf. CatalogChoice has a database with thousands of catalog names. Create an account and search for the catalogs you receive. The site will either send the company a request asking that you be removed from the catalog mailing list or will tell you exactly how to contact the company in question.
You may still receive stopped catalogs in the six to eight weeks after contacting each company. Some catalogs may keep coming even after that. Unfortunately, there's no guarantee that your request to cancel catalogs will be honored. Catalog companies can still send you mail even if you ask them to stop.
While you're working on stopping catalogs, you might want to try getting off mailing lists for other kinds of junk mail. One way to better control what reaches your mailbox is to use the Direct Marketing Association's opt-out service. It costs a few dollars in processing fees to register with DMAchoice.org, but registration lasts for 10 years. You can use the service to have your name removed from marketing mailing lists and set preferences about what kind of mail you want to receive. The service can also be used to stop mail from being sent to a deceased person.
To stop unsolicited mail with prescreened/preapproved credit and insurance offers, use OptOutPrescreen.com. The site is affiliated with the major credit reporting companies, which are legally allowed to share customer lists with credit and insurance companies. Opting out will take your name off those lists so you stop receiving mail with these offers. Users can choose to opt out for five years or permanently. Opting out permanently requires printing, completing and mailing in a form.
Disposing of Unwanted Catalogs and Mail
Because you may never be able to completely stop catalogs from coming to your house, make sure you know how to properly dispose of them. Catalogs can almost always be recycled. If it's wrapped in a plastic wrapper, remove it and throw it away before putting the catalog with your other paper recycling. Don't worry about removing any pull-out inserts or staples.
Junk mail can also be recycled with other paper, including envelopes with plastic windows. However, if a piece of mail looks like it contains personal information about you or could be used to open new accounts in your name (like a preapproved credit card offer), shred it.