Things You'll Need
Dust cloth

Safety glasses

Rubber gloves

Bucket

Sponges

Towel

Broom

Sponge mop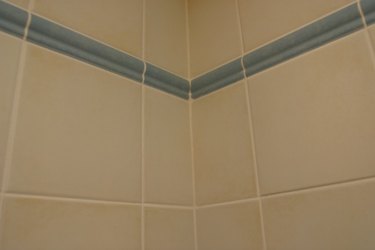 TSP is short for trisodium phosphate. Painters often use this for preparing surfaces prior to painting. However, this alkaline cleaning agent can also be used for wall or floor tiles that need extra heavy-duty cleaning, such as tiles hazy with soot or with grout dust. Because TSP is a strong chemical, you will need to avoid skin and eye contact with this product.
Step 1
Dust wall tiles with a clean dusting cloth to remove excess dirt and dust before cleaning with TSP. Put on safety glasses and rubber gloves.
Step 2
Fill a bucket with 2 gallons of warm water. Mix in 2 tbsp. of TSP, as suggested by Home Minders.
Step 3
Dip a clean sponge in this mixture. Scrub the tiles with the sponge until the tiles are clean.
Step 4
Rinse the tile with clean water, using a sponge or a towel soaked with water. Dry the tiles with a towel.
Tip
Many paint stores, hardware stores and home improvement stores carry TSP.
If cleaning floor tiles instead of wall tiles, substitute a broom for the dusting cloth and a sponge mop for the sponge.
Warning
According to the website Masonry Work Tools, you should never mix TSP with acidic products, such as vinegar, cleaners containing citric acid or muriatic acid -- a cleaner used sometimes for grout haze. Doing so will cause a chemical reaction that releases toxic gas.