Things You'll Need
1 pair pants

2 packages powdered RIT black fabric dye

Sink/bucket

3 gallons hot water

1 tablespoon laundry detergent

1/2 cup white vinegar

Long-handled spoon or stick for stirring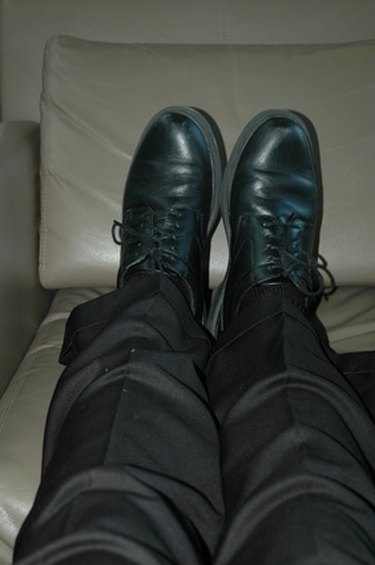 When you need a pair of black pants but do not want to buy a new pair, consider dyeing a pair that you already own. You can achieve a good result with plain-colored, natural fiber pants, especially those without stains. You can even dye an old pair of faded black pants to make them look new again. If you try to dye striped or other patterned pants black, remember that the pattern will still show through the fabric in varying shades of black.
Preparing
Step 1
Check the tag of your pants for the fabric information. Fabric must contain at least 60% natural, washable fiber, such as cotton, wool or silk, in order to dye evenly, although fabric that is not 100% natural fiber will not attain full color.
Step 2
Fill a bucket or sink with three gallons hot water. Do not use a plastic or fiberglass sink, as the dye will stain.Water should be 140 degrees Fahrenheit for darkest color saturation.
Step 3
Remove two cups of hot water from the bucket or sink with a measuring cup.
Step 4
Stir the dye powder into the two cups of hot water until dissolved. RIT dye recommends using double the amount of dye recommended on the package to achieve the truest black.
Step 5
Pour the dye into the bucket or sink of hot water, stirring to mix.
Step 6
Add 1 tablespoon of laundry detergent to dye bath to increase the evenness of the dye and 1/2 cup of white vinegar to increase the intensity of the color.
Step 7
Soak pants in hot water. (Resource 1)
Dyeing
Step 2
Stir pants constantly in dye bath for 10-30 minutes. Keep pants in dye bath up to one hour for deepest color results and to assure a "true" black result. Remember that pants look darker when wet.
Step 3
Rinse pants in warm water, then cooler water until the water runs clear.
Step 4
Wash pants in washing machine with a mild laundry detergent in warm water with a cool rinse cycle.
Step 5
Hang dry or place pants in a dryer according to the fabric directions on the tag.