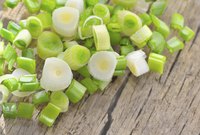 Green onions and scallions are not the same. While similar, a green onion has a 1- to 2-inch bulb, while a scallion does not have a white bulb. Use green onions as a garnish or to add flavor to soups, salads, stews and other dishes. Available year-round and sold in bunches, green onions are best when used within a few days of purchase so they're crisp and flavorful.
Things You'll Need
Cutting board
Sharp cook's knife
Rinse the green onions thoroughly in a colander under cold, running water, and let them drain. Pat the green onions dry with a paper towel, and place them on a cutting board.
Remove any loose layers of skin, wilted leaves, brown parts and the stringy roots of the green onion with a sharp cook's knife.
Slice the green onions by rocking a cook's knife across them, creating slivers or lengths, according to recipe instructions. Some recipes specifically instruct you as to what part of the green onion to use, the white bulb or the green stems.