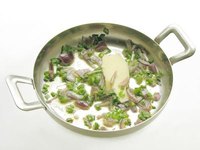 Cooks with a well-stocked kitchen often include at least one piece of Cuisinart cookware in their collection of pots and pans. Because Cuisinart cookware has a sturdy design, these pieces should last a lifetime in the kitchen, enabling the preparation of many delicious meals. As you use your Cuisinart cookware, clean the cookware carefully to keep it looking shiny and attractive in your kitchen. The cleaning process is basic and you should find the cookware releasing food residues readily.
Things You'll Need
Dishwashing detergent
Dishcloth
Fill the cookware with warm water as soon as possible after using it. Add two or three squirts of dishwashing detergent to the water and swirl the water around gently to create bubbles. Allow the water to sit in the cookware until the water cools to slightly warm.
Pour out the water and use the dishcloth to wipe the inside and outside surfaces of the cookware. If you find stubborn food residues, use the nylon scrubber to scrub these areas of food away from the cookware. Continue scrubbing until you remove all remnants of food from the cookware.
Rinse the cookware under warm water to rinse all soap and food away.
Dry the cookware with the dishtowel and put it away.