Things You'll Need
Permanent marker

Screwdriver

Hayward skimmer kit

Cutting tool

Drill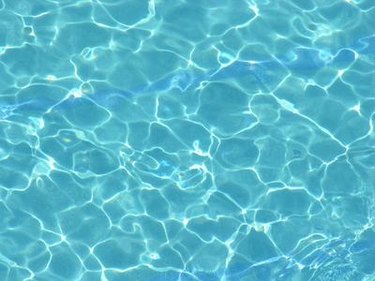 Every pool owner knows how important it is to have a properly functioning skimmer. On pools without a main drain, the skimmer is the only means by which water is suctioned into the filter. Whether you're installing a brand-new skimmer for a newly installed pool or replacing a skimmer that has been damaged skimmer, Hayward makes pool skimmer kit that can fit both situations. Fortunately, the skimmer kit provides just about everything you need to install or replace the skimmer on your pool.
Step 1
Reduce the level of water in the pool. Lower it until it's approximately 2 inches below the area where the Hayward pool skimmer is being installed.
Step 2
Trace the skimmer opening and screw holes on the outside of the pool. The Hayward pool skimmer kit comes with a stencil for marking the proper dimensions for the pool skimmer. Using a permanent marker, place the stencil on the outer pool wall in the spot where the skimmer is to be installed and trace the outline as indicated in the stencil.
Step 3
Cut out the skimmer opening. Take your cutting tool and cut along the outline as traced. Make sure to cut the lining in addition to cutting the pool wall. If there is water in the pool, have someone hold a wet towel on the inside of the pool to catch any metal shavings.
Step 4
Drill the screw holes. Once the opening is cut, take the drill and drill all of the screw holes as marked. You must drill through the lining too.
Step 5
Affix the simmer to the outer pool wall. Take the rubber seal as supplied in the Hayward skimmer kit, and place it between the wall and the skimmer. Place the skimmer on top of the seal and screw them to the outer wall. The screws are attached via inside the pool. You must go through the pool lining, the pool wall and then into the skimmer.
Step 6
Attach the Hayward skimmer faceplate. Just like with the skimmer, place the faceplate rubber seal in between the pool lining and the faceplate. From inside the pool insert the screws into the faceplate. The screws will go through the faceplate, the pool lining, the wall and eventually into the skimmer to securely affix it to the pool.
Step 7
Connect the pool hose and increase the pool water level until it reaches the half way point of the faceplate.
Tip
If there is water in the pool, the weight of the water will tug on the pool lining. As soon as you drill the holes for the faceplate, take a few of the screws that come in the Hayward skimmer kit and insert them in the holes. This will prevent the water from pulling the liner down and causing a misalignment in the liner and wall screw holes.