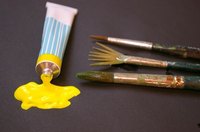 Vincent Van Gogh created two famous paintings featuring luminous night skies: The Starry Night and Starry Night Over the Rhone. These vibrant, expressive paintings are among his most celebrated works, created during the last couple of years before he took his own life in 1890. Both are predominantly blue canvases with bold yellow stars lighting up the scenes. Van Gogh used oil paints, but you can use acrylic if you prefer, for a similar effect.
According to a New York Times article, Van Gogh wrote to his brother Theo in 1888: "It often seems to me that the night is much more alive and richly colored than the day."
Things You'll Need
Starry Night print or online image for reference
White painting paper or canvas
Oil or acrylic paint
Brushes, large and small
Water
Paint the entire canvas with a medium shade of blue. It's easier to paint the details when you're working over top of a color than a blank white canvas.
Sketch the background outlines with a thin paintbrush. Draw the lines of the hills, the village, the wind swirls and the moon.
Mix a few shades of blue and begin filling in the sky, hills, and village. Don't worry about getting the colors perfect--Van Gogh often let the paint mix on the canvas, rather than mixing the exact colors he wanted on his palette.
Add a couple of shades of green to the canvas, filling in the trees that surround the village.
Paint the moon and a few stars with a rich, golden shade of yellow. Make the stars simple yellow circles. Take the same shade of yellow and add a bit of white paint. Use this lighter shade to paint a glow surrounding the moon and each star.
Use shades of brown and gray to paint the village buildings, adding yellow afterward to paint the lit-up windows.
Complete the sky, hills and trees by painting a series of small white and blue brush strokes, giving the painting a dynamic energy and overall feeling of movement in an otherwise calm night scene. The lines in the sky should flow around the glow of the stars and moon in circular motions.
Sketch the large foliage in the foreground on the left side of the canvas over top of the sky. Paint it a dark shade of forest green with a medium-brown outline.