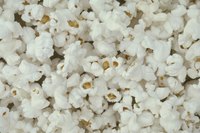 Back to Basics is part of a product line that includes West Bend Housewares called Focus Electronics. Falling within the Back to Basics label are small kitchen appliances, including several popcorn makers. When buying a Back to Basics popcorn popper, you choose from three different models, based on your personal preference of corn-popping method.
Things You'll Need
Butter
Potholder or oven mitt
Back to Basics Microwave Popcorn Popper
Measure out 1/4 to 1/2 cup of popcorn and empty into the clean popper.
Add two tablespoons of oil to the bowl of the popper. If you prefer, skip the oil for a healthier bowl of popcorn.
Place the Back to Basics Popper in the microwave oven. Set the microwave to the highest setting and set the timer for three minutes.
Remove the popcorn when the popping slows to the point where there is a full minute or two between pops or when the timer goes off. Use a pot holder or oven mitt when handling the popper as it will be hot coming from the oven.
Back to Basics Stove-Top Popcorn Popper
Turn on a stove burner to "Medium" on a gas range or "Medium-High" on an electric range. Because flat-top ranges cook higher than other burners, set the range to "Medium-Low" and pay close attention during the popping process.
Measure out one to three tablespoons of oil and pour it into the popper. Add a half-cup of popcorn to the popper on top of the oil.
Place the Back to Basics popper on the heated burner. Immediately begin to turn the handle in a slow, continuous motion. Stop turning the handle and remove the popper from the heat when the popping slows and the handle becomes difficult to turn.
Turn the popper to its side and empty the popcorn into a bowl. Be careful of escaping steam. If necessary lift the lid of the popper with an oven mitt.
Back to Basics Stir Crazy Corn Popper
Put the appropriate amount of oil and popcorn into the popper base. Spread the corn so that it covers the base evenly and put on the popper cover. Ensure the handles of the bases fit into the cover handles.
Put the recommended amount of butter for the amount of popcorn that you are popping into the butter well, if desired. Divide the butter into six parts before placing it over the holes in the well.
Plug the Back to Basics popper in to begin the stirring action. Allow the popcorn to pop for 4 to 6 minutes or less, if the popcorn is no longer popping. Unplug the popper.
Push any non-melted butter through the holes in the well. Place the lid over the butter well. Flip the popcorn popper so that the popcorn empties into the cover. Lift the base from the inverted lid slowly to escape steam.