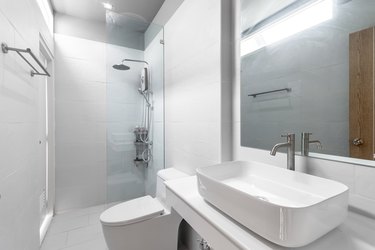 Using hair dye has its pros and cons. On the plus side, color can make you look fresher and younger, and some ingredients are actually beneficial for the hair cuticle. It can be expensive to maintain, though, so many people choose to color their hair at home. Along with this comes the second con: Hair dye can stain surfaces, including floor and wall tiles.
How to Remove Hair Dye from Tiles
So, you got hair dye on your tiles. Now what? Many experts advise caution because you don't want to damage the tile's coating. Ceramic and porcelain tiles have high-gloss finishes, and using the wrong methods can leave them looking worn, scratched or dull. When using any type of cleaning product, be sure to first test an inconspicuous area of the tile before proceeding and use products that are nonabrasive.
If the dye is still wet, get some absorbent paper towels or a clean, old cloth and dab off as much of the dye as you can, taking extra care not to spread the stain out further. Squirt some hairspray onto the dye and wipe it off. This works best on new hair dye stains. You can also try a Magic Eraser or Scrubbing Bubbles, both of which are safe for tile. Bleach pens and peroxide gels can also be safe and effective for removing hair dye.
Using Rubbing Alcohol, Bleach or Acetone
Rubbing alcohol can remove hair dye from marble tiles. If the dye has gotten into your grout and you cannot get it out, it may need to be re-grouted, which is easy to do. Sometimes, hair dye stains get into bathtubs too. One of the easiest ways to remove these is to fill up the tub with bleach and water until the water level is above the stains and plug it up. By the next morning, the stains should be gone.
Acetone can also get hair dye out of tiles. However, proceed with caution when using acetone because it can damage certain finishes and exposed grout. It can stain tiles as well. To remove acetone stains, combine four parts water to one part vinegar and add in several drops of dishwashing liquid. Use this to scrub out the acetone.
Other Hair Dye Removal Methods
Dishwashing liquid can also be used to remove fresh hair dye stains. Squirt a bunch of it onto the stain and scrub away with a sponge. This is a kinder and gentler method, but it does not always work, and you may have to try the other cleaning agents. If you want to try straight bleach, add it to a spray bottle and dilute with 50 percent water. Spritz it on, give it 10 minutes and wipe it away.
Another popular way to remove hair dye stains is to make a paste from baking soda and water or baking soda and vinegar. Either can be applied onto the stain with a toothbrush. Allow it to rest for about 10 minutes. Then, use the same toothbrush to remove the stain. This is the recommended method for cleaning natural stone tiles.