Things You'll Need
Template cardboard or clear plastic

Scissors

Ruler

Fabrics for a sample block

Sewing machine or needle and thread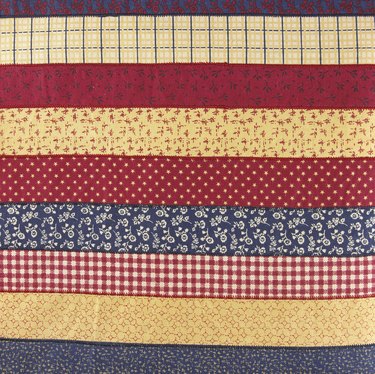 This is an old quilt pattern with a new name. It's sized to fit a fat quarter. Each quilt block is made of only three pieces, so this is an easy quilt for even a beginner, particularly since there are no curves or points to sew. The completed quilt takes 20 quilt blocks made by mixing the fabrics and turning each block 90 degrees to assemble the quilt. The complete quilt top requires 20 fat quarters.
Step 1
Make templates for your pattern pieces for a block, using cardboard or clear plastic. You will need a 10 1/2-inch by 10 1/2- inch square, a 7 1/2-inch by 10 1/2-inch rectangle and a 7 1/2 -inch by 17-inch rectangle. Make one more template for the border in 4-inch by 17-inch size.
Step 2
Select some fabrics for a sample block of fabric scraps. You can always turn the block into a pillow if you want. A fat quarter is 18 by 22 inches, or half a yard long and half the 44-inch fabric width. The quilt will require 20 fat quarters, but this is a practice block.
Step 3
Study the layout for the template pieces on an 18-inch by 22-inch piece of fabric. Place the square in the bottom left corner and the long rectangle across the top. Place the 7 1/2-inch by 10 1/2-inch rectangle just to the right of the square and the 4-inch by 17-inch rectangle along the right side. Many quilters do not wash fat quarters to avoid the possibility of shrinkage, since fat quarter patterns like this one often take the entire 18-inch length.
Step 4
Use fabrics of your choice to make a quilt block for practice, cutting each of the three main pieces from a different fabric. Do not cut the 4-inch by 17-inch piece as it is a border piece for the full quilt.
Step 5
Assemble the three pieces into a quilt block. Use 1/2-inch seams to sew the 7 1/2-inch short rectangle to the square. Sew the 7 1/2-inch long rectangle across the top of the two sewn pieces.
Step 6
Press seams away from the square and measure your block for size. It should be 17 inches by 17 inches. When sewn into the quilt or made into a pillow, it will be 16 inches by 16 inches, since there is 1/2-inch seam allowance on each side.