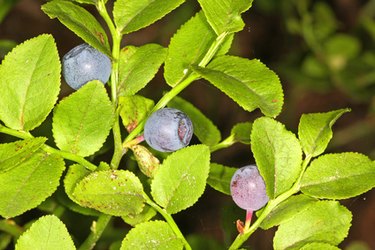 When dormant, blueberry plants (Vaccinium spp.) can withstand freezing temperatures as long as the plants are grown within their hardiness range. Blueberry buds and fruits become susceptible to cold injury when the plant is exposed to freezing temperatures in spring after breaking dormancy. The further along the flowers are in their development, the more they are vulnerable to the cold.
Blueberries and Chilling Hours
There are three main types of blueberries commonly grown in the United States: highbush blueberries, which are further divided into northern highbush and southern highbush varieties; lowbush blueberries; and rabbiteye blueberries.
The hardiness and cold tolerance of a blueberry bush depends on the type of blueberry and the specific cultivar. Northern highbush blueberries are considered the most cold hardy, while rabbiteye blueberries are the least hardy. When growing blueberries in the home garden, it is therefore important to choose a variety that is winter hardy where you live.
All blueberry plants must be exposed to a certain number of hours of temperatures between 32 and 45 degrees Fahrenheit in order to flower in the spring. These are known as chilling hours. The number of chilling hours a blueberry bush requires depends on the cultivar and can range from more than 1,000 hours to as few as 300 to 400. Southern highbush blueberry varieties tend to have some of the lowest chilling hours requirements.
When a blueberry plant's chilling hours requirement has been met, the plant breaks dormancy. The lower the amount of chilling hours a blueberry plant needs, the earlier in the spring that it will begin to develop flowers. Once the plant is out of dormancy, it is more susceptible to frost damage. Therefore, a low number of required chill hours often means that the blueberry plant is more vulnerable to having its buds and flowers damaged by frost and freezing temperatures.
Cold injury in blueberries often occurs during periods of extremely cold temperatures after a period of mild conditions. The temperatures at which open flowers and immature fruit become damaged by the cold varies. Blueberry frost damage can result in a diminished crop and smaller, scarred fruit. Freeze damage can also result in fungal infections.
Blueberry Freeze Protection
Where they are winter hardy, blueberry bushes do not require protection from freezes while they are dormant. However, you may need to provide protection for buds and flowers that emerge before the threat of freezing temperatures has passed. One way to make a blueberry plant more tolerant to cold temperatures during this time is to provide plenty of soil moisture, which will allow the plant to absorb more heat.
Overhead irrigation is sometimes used to prevent frost damage in blueberries, but it can be difficult and requires a lot of water. Row covers can also provide protection. Pruning blueberry plants right after harvesting a crop can also help delay blooming the following spring by a couple of weeks, which reduces the risk of damage by a late-season freeze.
If you are growing blueberries in containers, in midfall, you'll want to bury the containers in the soil in a location that is protected from winter winds. A layer of straw mulch 4 to 8 inches thick will help to further protect the roots. Alternatively, you can use burlap to cover container blueberry bushes.