Things You'll Need
8 cups pistachios

1/4 cup salt

1/2 cup water

Large saucepan

Baking sheet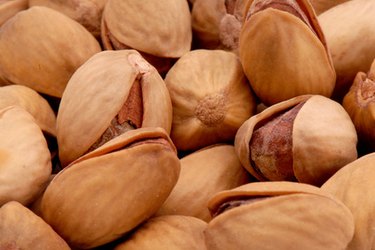 If you've purchased pistachios in a store, chances are they were roasted, salted and came ready to eat. If you have grown your own pistachios or obtained raw ones from someone else, you may be surprised by how different they are than the finished version. Fortunately, you do not need to resort to returning to purchasing prepared pistachios from the store--you can prepare pistachios at home and make your own roasted, salted treat.
Step 1
Preheat your oven to 250 degrees Fahrenheit.
Step 2
Combine the salt and water in a large saucepan and stir to dissolve the salt.
Step 3
Add your pistachios to the saucepan and stir gently but thoroughly to distribute the salty water over the nuts.
Step 4
Turn the heat under the saucepan to high. Stir the nuts continuously over the high heat until all the water has evaporated. This will leave a salty coating on your pistachios.
Step 5
Spread your pistachios in a single layer on a baking sheet, then put the baking sheet into the preheated oven.
Step 6
Bake your pistachios for 90 to 120 minutes, depending on your personal taste. Stir every 15 minutes during the roasting process to ensure an even roast.
Tip
You can adjust the amount of salt to taste. Keeping the amount of water constant, add more salt or less salt depending on how salty you want your finished product to be.