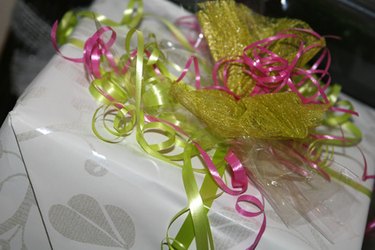 When someone you know is getting married, it's a happy and joyous occasion. It's something you want to celebrate, and you should also want to make it clear to the bride-to-be that you are happy for her and wish her the best of luck in her upcoming marriage. One place you have the opportunity to share this sentiment is through the gift card that you give her at the bridal shower, along with her gift, of course.
Step 1
Address the note inside the gift card to either the bride or to the bride and groom, depending on the type of bridal shower being thrown. Some bridal showers are just for the bride and her female friends and family members, while others are for the bride and groom and men and women are both invited.
Step 2
Fit the overall tone of what you write inside the gift card with the tone of the bridal shower. Some showers are intimate and personal, while others have elaborate themes and are more of a fun party or get-together to celebrate the couple's future marriage.
Step 3
Include some form of congratulations in the gift card. You don't want to forget to congratulate the happy couple.
Step 4
Wish the couple luck in their future marriage. Many bridal shower gift cards include a sentiment of well-wishing and a hope for future happiness.
Step 5
Say something personal. This depends on how close you are to the bride-to-be or to the couple, and how well you know them. Try to include something meaningful in the card. For example, if you have known the couple since they got together, comment about how you always knew they were perfect for each other.
Step 6
Sign your name at the bottom of the card after an appropriate closing, such as "Love," "Best wishes" or "Congratulations again." Be sure to add the names of everyone included in your gift who was invited to the bridal shower.