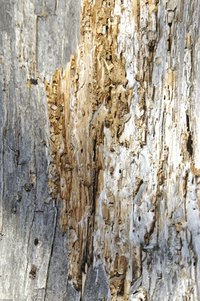 If you believe you have termites living in the walls of your home, there are ways you can try to get rid of them on your own before calling an exterminator. Your success will depend largely on the size of the infestation. The subterranean termite is the most common termite. They will build tunnels through the soil to your home and eat the wood of your structure for food.
Determine what type of termite you have. Subterranean is the most common. A telltale sign of these termites are the mud-based tunnels they will build through the soil leading towards your house. Drywood termites are the next most common type of termite. They will leave behind little piles of wood dust and feces near the base of your home's walls.
Purchase a commercial termite killer from either your local hardware store or online. Purchase a liquid pesticide if you have subterranean termites. "Premise" is the most common do-it-yourself termite pesticide. Drywood termites are much harder to exterminate on your own; it is generally recommended to call a professional.
Dig a shallow trench all around the outside of your home using a small shovel. Spray the pesticide into the trench all along the foundation of your home. Depending on the size of your termite colony, you should notice the effects within a few days. The pesticide will remain active in your soil for up to a couple of months.