Things You'll Need
Zip top gallon-size plastic bag

1/2 cup soy sauce

1/4 cup Worcestershire sauce

1/2 cup packed brown sugar

1 tsp. garlic powder

1 tsp. onion powder

1 tbsp. ground black pepper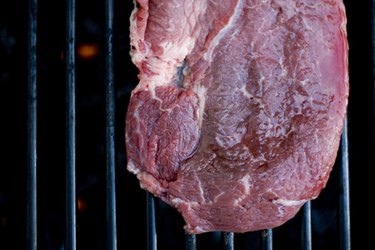 Marinating steaks in dark Pepsi-Cola lends a slight sweetness to the meat and adds an appealing dark color to the steak. Acid in the Pepsi-Cola helps to tenderize the meat, but a single can of cola does not make the final marinade. Enhance the flavor of your marinade and cooked steaks by adding savory spices to the Pepsi and soaking the steaks overnight before cooking. To prevent food poisoning, never reuse it; discard the marinade immediately after you take the steaks out.
Step 1
Combine a 12-oz. can of Pepsi-Cola, soy sauce, Worcestershire sauce, brown sugar, garlic powder, onion powder and pepper in a zip top gallon bag.
Step 2
Seal the bag and shake to combine the ingredients.
Step 3
Open the bag and arrange the steaks in the bottom.
Step 4
Reseal the bag and refrigerate to marinate the steak overnight, up to 24 hours.
Step 5
Remove the steaks from the marinade and cook using your preferred cooking method. Discard the marinade and do not reuse it.