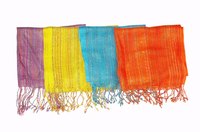 There are two types of bleach, chlorine bleach and color-safe bleach. Chlorine bleach is not safe for colored fabrics because the chlorine can cause the colors to run or fade. Color-safe bleach's active ingredient is hydrogen peroxide, which lifts stains but does not cause changes to the fabric's color. It actually enhances colors because it contains optical brighteners to make clothes look brighter.
Things You'll Need
Pour 2 cups hydrogen peroxide into a plastic gallon container.
Add lukewarm water to the hydrogen peroxide in the container; use enough water to fill the container.
Put the cap on the container and gently shake to mix the hydrogen peroxide and water.
Store mixture in the container, covered.
Use homemade color-safe bleach to pretreat stains or add it to the wash.