Things You'll Need
.10 copper foil 12 inch by 12 inch

Round plywood wooden shield blank

7-inch round wooden bowl

8-inch wooden bowl

Fabric cut to the same size as the shield blank.

Epoxy glue

One-inch paintbrush

Six leather strips 2 inch long by 1 inch wide by 1/4 inch thick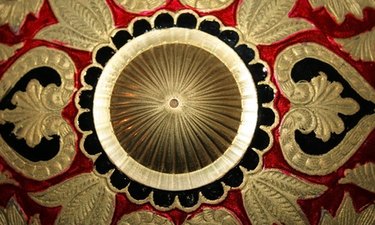 The shield is an example of how innovation can change things. Large wooden shields covered with hide protected the foot soldier from the spears and swords of the enemy. The metal boss in the center of the shield not only protected the soldier's hand but also made the shield into a powerful offensive weapon for battering the foe.
According to Legio V Alaudae, a Roman reenactment group based at the University of Tennessee, the Roman scutum shield was considered a primary weapon and took great skill to craft.
Step 1
Place the sheet of copper foil across the top of the 8-inch wooden bowl. Center it so that approximately the same amount of foil is sticking out all the way around.
Step 2
Push the 7-inch bowl down into the 8-inch bowl and apply epoxy glue around the inside rim of the smaller bowl to hold the copper foil in place.
Step 3
Push the edges of the copper foil down into the inside of the 7-inch wooden bowl and press it to the sides of the bowl. Separate the bowls smooth out any wrinkles in the foil covering the bowl. Allow the glue to dry.
Step 4
Cover the shield blank with the fabric and coat of arms of your choice. Brush epoxy glue onto the shield blank and smooth the fabric onto the shield, smoothing out any wrinkles as you go.
Step 5
Allow the glue to dry and paint the coat of arms of your choice onto the shield.
Step 6
Place the copper covered bowl in the center of the shield.
Step 7
Apply epoxy glue to one of the leather strips and press it down onto the side of the copper covered bowl with one inch extending out onto the shield surface. Attach the other five leather strips in the same manner to hold the shield boss firmly on the shield face. Allow the glue to dry.
Tip
For a more combat ready shield, you can cover a bowl with fiberglass mesh. Apply layers to get the thickness you want. For a decorative effect, try gluing or nailing copper coins on the shield face.
Warning
Always apply paint or glue in a well-ventilated area.