Things You'll Need
Design image or message

Porcelain dinner plates

Scissors

Carbon paper

Crafting tape

Pen

Cotton swabs

Rubbing alcohol

Porcelain pens

Paper towels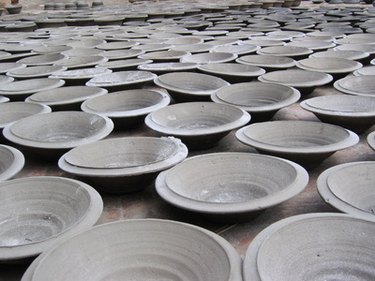 Print designs on dinner plates that you can use at dinnertime or for decoration. It is a way to dress up a plain plate as well as make a special keepsake. When custom painting dinner plates, be sure to check labels of any product you use during the crafting experience. It is important to know the products are not harmful for human consumption if the plates have food on them. This project is inexpensive, and you can complete it in a short amount of time.
Step 1
Pick out porcelain dinner plates and a design or message to paint on the plate. Choose a design that will fit the plate or cut it to size, if possible. Trim the paper around the edges' design or message.
Step 2
Cut carbon paper to fit the design or message cutout. Put the carbon-sided paper on the plate, and tape the edges around the plate to keep the paper secure.
Step 3
Tape the prepared design or message in place on top of the secure carbon paper resting on the plate.
Step 4
Take the pen, and lightly trace around the design or message. The objective is to transfer the design to the plate.
Step 5
Remove the papers from the dinner plate, and use rubbing-alcohol-dipped cotton swabs to clean off extra carbon debris.
Step 6
Use a porcelain pen by shaking it and then taking off the cap. Be sure to push the pen tip in to open the ink. Dab off any excess ink on a paper towel.
Step 7
Trace the carbon image using the porcelain pen. The cotton swab with rubbing alcohol will help remove any mistakes. Let the area dry, and try again, if needed.
Step 8
Let the finished dinner plate painting air dry for at least 24 hours.
Step 9
Put the air-dried plates into a 300-degree oven for 35 minutes, and then turn off the oven to let the dinner plates cool. Once cool, take the plates out of the oven.
Tip
When choosing a design, pick simple-lined items with bold images.