Things You'll Need
Gloves

Safety goggles

Hammer

Screwdriver

Pry bar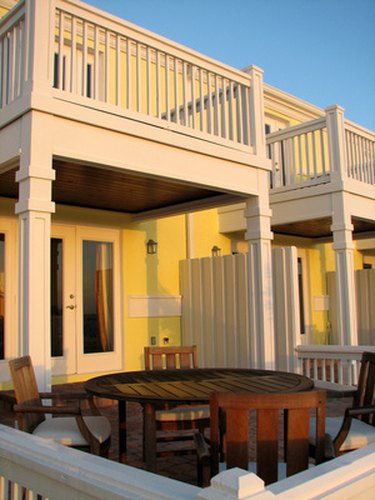 Milgard patio doors are composed of vinyl and come in three different series. They are made from a custom vinyl recipe and are even considered light commercial doors. They meet or exceed the criteria for structural integrity and reliable performance established by the American Architectural Manufacturers Association (AAMA). These patio doors do not crack, rust, peel or warp and are entirely maintenance free. Installing these doors can be a bit of a challenge and removing them is also a somewhat difficult task. However, with the right tools and knowledge, removing Milgard patio doors is just like removing any other vinyl sliding patio door and is a job that can be done by most homeowners.
Step 1
Remove the casing and trim from the interior of the door. Pry the moulding off with a pry bar or a hammer and screwdriver. Move to the outside and remove the brick mold from the exterior of the door in the same manner. Take out any loose nails that are sticking out from the wall where the moulding was.
Step 2
Remove the individual door panels by unscrewing the screws in the top and bottom panels. Begin with the active or sliding door. Take off the stile cover and carefully lift up on the door, freeing the bottom from the track. Be careful as the door will be heavy.
Step 3
Unscrew the screws from the top and bottom panels of the stationary door and remove the stile cover. Lift up and remove the door. Clean out any dirt or debris that is in the bottom track or the side panels of the door.
Step 4
Remove all the screws in the frame going up the sides of the jamb. Start with one side and then move on to the next side. Unscrew the top and bottom tracks and remove them.
Step 5
Inspect the sill at the bottom of the door to make sure it is not damaged or rotted. If it is, remove it with a pry bar or hammer. Thoroughly clean the area around where the frame was, making sure all dirt and debris is removed upon completion.