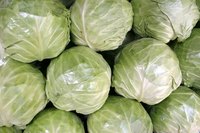 Whether you're preparing corned beef and cabbage for a St. Patrick's Day feast or simply trying to add some variety (not to mention vitamins C and K) to your diet, boiled cabbage might be just what you're looking for. This simple dish may sound bland or even boring at first, but a little creativity can turn it into an interesting and tasty addition to your table. You can add a hint of heat with peppers or chili flakes, a savory note with bacon or pancetta, or more flavor complexity with tomatoes, bell peppers, onions, leeks or carrots.
Things You'll Need
1 large head of cabbage
1 tsp. salt plus more to taste
1 tsp. black pepper plus more to taste
4 tbsp. butter or 2 tbsp. oil
Rinse the cabbage thoroughly in cool water.
Chop the cabbage into roughly bite-sized pieces, discarding the stem, then put the pieces in a large pot.
Pour enough water into the pot to come halfway up the cabbage, then add the salt, pepper and 2 tbsp. of either butter or oil.
Bring the ingredients in the pot to a boil, then stir gently, reduce the heat and cover the pot. Simmer, stirring occasionally, until the cabbage is tender, about 20 to 25 minutes.
Drain the cabbage, then add the remaining 2 tbsp. of butter (if you are using butter instead of oil) and more salt and pepper to taste.