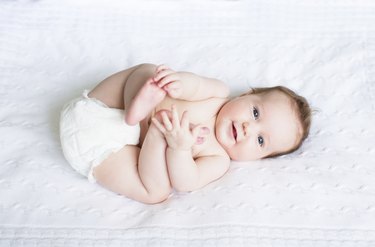 Diapers are a prized commodity for caregivers of young children. Babies always need them, and often go through several a day. The cost of providing diapers every day for the first year or two of the child's life can become a high cost. A diaper raffle at a baby shower is useful and functional, as well as fun and entertaining. The raffle allows baby shower guests a chance to win a prize while simultaneously stockpiling diapers for the new parent. Be sure to include the pertinent details on the party invitation so guests know what to expect of the raffle and what, if anything, to bring.
Step 1
Include a straightforward note at the bottom of the invitation that says, "Guests are invited to bring a package of diapers to the shower in order to participate in a raffle."
Step 2
Add a line inviting guests to bring a variety of sizes of diapers; for example, "All sizes are welcome."
Step 3
Include details explaining the raffle, if there is space on the invitation. Explain the rules, such as "For every pack of diapers brought, the guest will receive one raffle ticket. The diapers collected will go to the new parents. The raffle tickets will be put into a hat to be randomly selected for a prize."
Step 4
Incorporate a poem into the invitation for a fun touch. For example, "If you can bring a diaper pack donation, you will help out Jack and Jill's little creation. And if you provide it in any baby size, you get a chance to win a great prize!"