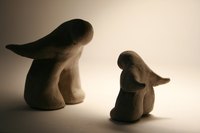 There are many types of Crayola clay, including salt dough, air-drying, oil-based and polymer clay. Polymer clay can be baked in the oven. Baking Crayola polymer clay is not a difficult process.
Things You'll Need
Crayola polymer clay
Aluminum jelly roll tray
Preheat a conventional oven to 200 degree Fahrenheit.
Place a sheet of aluminum foil into an aluminum jelly roll pan.
Place your completed Crayola clay sculpture onto the sheet of aluminum foil.
Place the jelly roll tray into the heated oven.
Bake the clay sculpture for 10 minutes.
Remove the sculpture from the tray and allow it to cool on a flat surface before handling it.