Things You'll Need
Spray paint

Shovel

Plate compactor

Sand

Gravel

Flag stone

Level

Mallet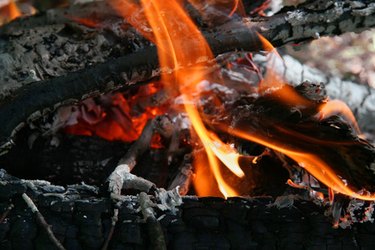 Hills have fantastic views, making them an ideal place to entertain guests during the evening around a fire pit. Although building a fire pit on a hill may appear to be a challenging project, it can be accomplished in much the same manner as constructing one on level ground. The main difference is that you may need to dig more for a pit on the hill than on flat ground to ensure that the base is level.
Step 1
Select the spot on the hill to locate the fire pit. Spray paint an inner and an outer circle. Space the inner circle 12 inches inside the outer circle. This is the inside ring of the pit. The outer circle is the outside edge of the fire pit wall.
Step 2
Dig out the space between the outer and inner circle to a depth of 6 inches. Dig out the center of the inner circle to a depth of 4 inches. The depth may be deeper on some parts of the fire pit to ensure that the ground is level on the hill. Use your eye to gauge the ground to make it level. It does not have to be perfect at this stage of the process.
Step 3
Tamp down the dug out portions of the fire pit with a plate compactor. Fill dug out area between the outer and inner ring with 2 inches of sand or as necessary to bring it level with the inner circle. Fill the remaining ring with 4 inches of gravel or as necessary to fill the space between the outer and inner ring.
Step 4
Lay the first layer of flag stone around the pit in the place with the gravel. Check each stone with a level. Adjust the stone by tapping it with a mallet.
Step 5
Build the remaining layers until you have reached a height of 24 inches. Stagger the joints between stones so that you are placing the above stone in the center of the joint of the stones below. This creates a strong wall.
Step 6
Fill the inside of the fire pit with 3 inches of gravel.
Tip
Arrange stumps or large rocks around the pit for seating.
Warning
Wear work gloves when working with flag stone.