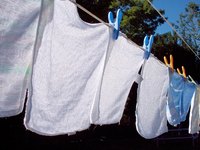 Making your own laundry soap at home is not only environmentally friendly but also extremely economical. With a few simple ingredients that may already be available in your home and a couple of quick steps, you can make your own laundry soap that works just as well as store-bought for less than half the price. When finished, you will have created a tough-stain-removing laundry bar soap that also freshens your laundry.
Things You'll Need
2 1/2 pts. of water
Mixing bowl
1 can lye
Spatula
5 1/2 lbs. lard
Cooking pot
Shallow pan
Knife
Pour the water into the mixing bowl. Add the can of lye to the water slowly and allow it to dissolve. Stir together with the spatula.
Melt the lard in the cooking pot and place it aside until its temperature cools to less than 115 degrees Fahrenheit.
Pour water and lye mixture into the melted lard. Stir with the spatula.
Pour the mixture very slowly into a shallow pan and allow it to harden. After it has cooled and hardened, cut soap into 2-inch by 2-inch squares with the knife.
Use one 2-inch square per load of laundry.