Things You'll Need
2 1/2 pts. of water

Mixing bowl

1 can lye

Spatula

5 1/2 lbs. lard

Cooking pot

Shallow pan

Knife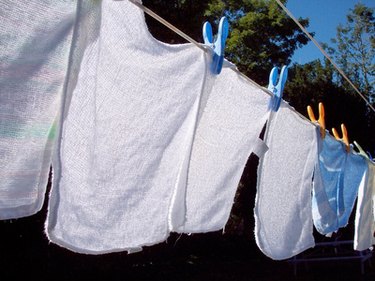 Making your own laundry soap at home is not only environmentally friendly but also extremely economical. With a few simple ingredients that may already be available in your home and a couple of quick steps, you can make your own laundry soap that works just as well as store-bought for less than half the price. When finished, you will have created a tough-stain-removing laundry bar soap that also freshens your laundry.
Step 1
Pour the water into the mixing bowl. Add the can of lye to the water slowly and allow it to dissolve. Stir together with the spatula.
Step 2
Melt the lard in the cooking pot and place it aside until its temperature cools to less than 115 degrees Fahrenheit.
Step 3
Pour water and lye mixture into the melted lard. Stir with the spatula.
Step 4
Pour the mixture very slowly into a shallow pan and allow it to harden. After it has cooled and hardened, cut soap into 2-inch by 2-inch squares with the knife.
Step 5
Use one 2-inch square per load of laundry.
Tip
Add a few drops of your favorite essential oil for a pleasant scent. Shave the square of soap before adding to laundry, if desired, so that it dissolves easier.
Warning
Handle lye with caution as it is a dangerous ingredient. Wear safety gloves and goggles and follow all instructions on lye packaging carefully.