Things You'll Need
Washcloth

Cellophane

Rubber band

Craft stick, narrow dowel or popsicle stick

Curling ribbon

Hot glue gun

Hot glue

Pom-pom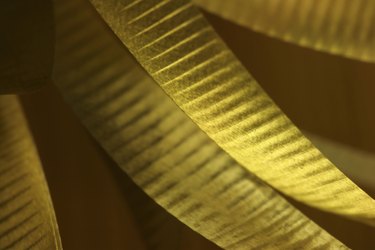 Washcloth lollipops are often used as favors at baby showers. They can also be given to the new mom, who will appreciate more washcloths for her baby.
Step 1
Lay the washcloth on a flat surface or table.
Step 2
Tightly roll the washcloth in a jelly-roll fashion so that it looks like a long stick.
Step 3
Roll the washcloth from one end to the other, coiling it tightly.
Step 4
Wrap cellophane around the coiled washcloth, gathering it at the bottom at the end of the washcloth.
Step 5
Put a small rubber band around the gathering of the cellophane. Secure your rubber band tightly, leaving just enough room to add the "lollipop" stick.
Step 6
Place your craft stick, dowel or popsicle stick through the opening of the cellophane.
Step 7
Tie a small piece of curling ribbon over the rubber band to secure the stick in the cellophane covering.
Step 8
Add hot glue to the middle of the curling ribbon.
Step 9
Place a pom-pom on the glue.
Tip
Match the pom-pom with any of the colors in the washcloth.
Warning
Do not use tape or glue on the washcloth.