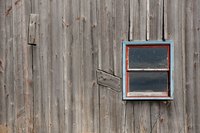 Boarding up the windows in a primary or secondary residence that will be vacant for an extended period offers much-needed protection from a number of potential problems. Properly boarded-up windows helps protect the house from extreme weather and can deter vandals and thieves from damaging windows or breaking into the house to protect the home from looters or unwanted occupants after a severe storm. For added protection, you can bolt two-by-four lumber to the plywood covers.
Things You'll Need
Tape measure
5/8-inch CDX plywood
Circular saw
Corrosion-resistant screws
Drill
Drill bits
Two-by-four lumber
3/8-inch carriage bolts with washers
Basic Installation
Measure all sides of all windows, and locate the studs closest to those sides.
Cut plywood with a circular saw so the sides are at least 4 inches past all sides of each window. Number or label each panel to note which window it fits.
Hold the plywood over the window, and drill pilot holes through the plywood and wall siding and into the studs every 16 inches.
Screw corrosion-resistant screws into the pilot holes, using the drill.
Extra Security
Cut four pieces of two-by-four lumber to the measured length of plywood for each window.
Position the lumber over the plywood sheet, with one board along each side edge and two spaced evenly in between. Drill 3/8-inch holes through the lumber and plywood in at least three places along the length of the lumber.
Secure the lumber to the plywood with carriage bolts.