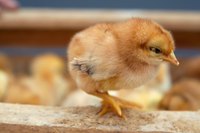 Heat lamps are required to keep small animals, birds and reptiles warm. Heat lamps can also be used to keep working areas warm during cold weather. Always set up a heat lamp in a safe area where no animals or people will accidentally burn themselves on the bulb. With just a few simple supplies and 15 minutes to spare, you can easily set up a heat lamp.
Things You'll Need
250-watt clamp reflective light fixture
250-watt clear infrared halogen bulb
Secure the clamp light onto the intended surface above the area it is meant to heat.
Use the paper towel to wipe the light bulb clean of debris over the entire surface. This prevents any debris from interfering with the electrical connection in the socket.
Allow the bulb to air dry for 10 minutes.
Carefully screw the bulb into the socket of the reflective clamp light fixture. Do not force it to screw it too tight, the bulb can shatter when too much tension is applied.
Plug the reflective light into the wall or extension cord that will be providing the heat lamp's power source.
Turn the heat lamp on, and it is ready for use.