Things You'll Need
Rust-proof pins

Spray bottle

Flat, waterproof surface that you can stick pins into

Tape measure

Knitting pattern (optional)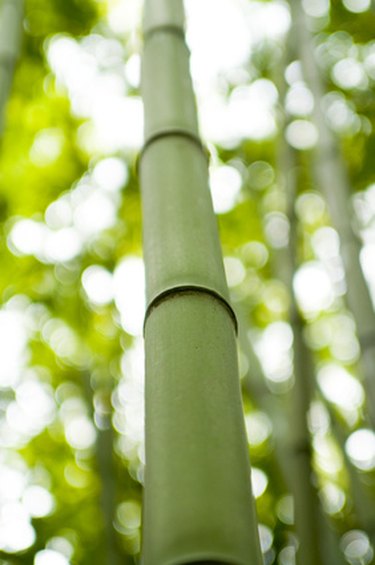 Blocking is one of the finishing steps for most knitting projects, and the technique you choose depends on the fiber. Yarn made from bamboo is soft and breathable with a silk-like sheen, which makes it a good choice for knitting or crochet projects such as warm-weather sweaters and lace shawls. To make yarn from this cellulose fiber, manufacturers break down the bamboo plant into a liquid and force it through a spinneret to create the fibers. The result is a man-made fiber from a natural source that should be blocked carefully with no heat.
Step 1
Lay the finished pieces on a flat surface. You can use any surface that can get wet and that you can push pins into, like a carpeted floor covered in a towel. Another option is a large piece of cardboard covered in plastic. You can also use a spare bed covered in towels or plastic sheeting. If you are blocking a large garment or a lot of knitting, the water-resistance of your surface will be more important.
Step 2
Pin the pieces to the size and shape you want. Consult the pattern schematic for the finished dimensions of garment pieces and use a tape measure to shape the pieces. Pin the outer-most points first and then add pins along edges as needed. Curves need more pins than straight edges.
For a shawl or scarf, first pin along a straight edge and then stretch the fabric to open and reveal the design, adding pins as needed to hold the shape. If the shawl has a pointed edging, put a pin in each point to hold it.
Step 3
Spray the pieces with water to get them quite wet. Add more pins if needed.
Step 4
Let the garment dry. Remove the pins.