Things You'll Need
Paint or imaging software program

Inkjet printer

8 inch by 10 inch iron-on transfer paper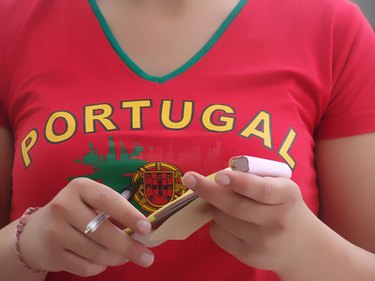 Iron-on letters, printed from your home computer, have endless uses, especially if you have students in school. Make shirts for pep rallies, for concerts, for friends' gifts, or for class projects. Make backdrops for plays or presentations. Make a statement or express yourself with only a group of iron-on letters and a piece of fabric.
Step 1
Feed one piece of iron-on transfer paper into your printer. Check the printer's settings and the back of the transfer paper to be sure you will be printing on the proper side of the paper. The back usually has printing on it that tells you its the back, and the front is textured.
Step 2
Design the letters you would like to print in an image-editing software program. If you need to create fancy colorful fonts, design in a paint software program like Adobe Photoshop or Paint.net. When finished, reverse the letter images to look like a mirror image of what you want the final expression or word to look like. Once you transfer the image, it will reverse back to its original direction onto the fabric.
Step 3
Once you have printed the designs or letters, hold the printed sheet up to your project to check that it is the right size, color, etc. Then feed another sheet of transfer paper into your printer if the letters look correct and are mirror images. Print as many copies as you need for your project.
Tip
To save transfer paper, which is usually more expensive, use a piece of copy paper as a test page before printing letters on the transfer paper.
Transfer paper usually comes in a standard 8-inch by 10-inch size, so adjust the amount of paper used based on the size of your letters. If you have a specialty printer, you can cut the paper to other sizes such as 4 inches by 6 inches or purchase larger sized paper from specialty vendors.
Warning
Make sure that your fabric is iron-friendly. Test an iron-on letter on a test piece of fabric.