Things You'll Need
Kraft paper

Tape measure

Pencil

Fabric

Scissors

Pins

Sewing machine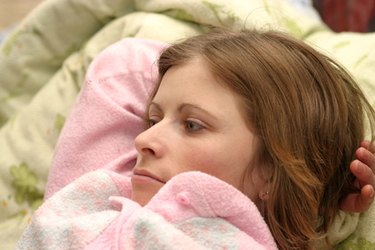 A bed wedge is a type of incline pillow that is made of relatively firm foam that is shaped to incline the head and upper back of a person who is laying down. These pillows come in many different sizes and shapes and often it is difficult to find pillow cases that will cover them or fitted cases that will allow them to match the bedding and look good as well as function. It is not hard to sew fitted covers for a bed wedge pillow so it is a good idea to buy extra bedding fabric when you are planning your bedding.
Step 1
Place Kraft paper on a large table surface. Stand your wedge on end and trace around the wedge shape. Make a note on the pattern to add 1/2-inch for seam allowance. Place a flat side of the pillow on the paper and trace around 3 sides. Rotate the pillow over the fourth side so that you can continue marking along both sides. Rotate the pillow again to bring you back to your starting point. Note to add 1/2-inch for seam allowances.
Step 2
Cut out your Kraft paper pattern and add your seam allowances all around. Make small V-shaped notches in parts of the pattern that go around curves. This will remind you to make these cuts in the fabric to ease the curves. Fold your fabric in half and cut out the end pieces since you need two mirror image pieces for the pillow. Pin the large pattern to the fabric and cut out the main pillow cover.
Step 3
Pin face sides together on one of your small end pieces and the long side of the main pillow cover. Repeat with the other side. Your main pillow cover should have a pillow-wide opening at the pointed or bottom of the wedge. Sew your pinned sides together using a 1/2-inch seam on both sides. Turn the cover right side out.
Step 4
Measure and cut hook and loop tape to fit the dimensions of the cover opening. Fold under and pin the 1/2-inch seam at the top and bottom of the pillow cover opening. Sew 1/2 of the hook and loop tape to the top and 1/2 to the bottom. Use two seams across each tape to secure the tape well.
Tip
Add piping to your pillow in between the end and main pillow cover seams for a nice detail. Use the same fabric you used for your bedding or a fabric that fits nicely into your decor.