Things You'll Need
36-inch-wide cotton muslin

Scissors

Tape

Acrylic paint

Paintbrush

Paper

Pencil

Iron-on adhesive tape

Iron

36-inch cardboard tube

78 inches of decorative cord or rope

Paper towels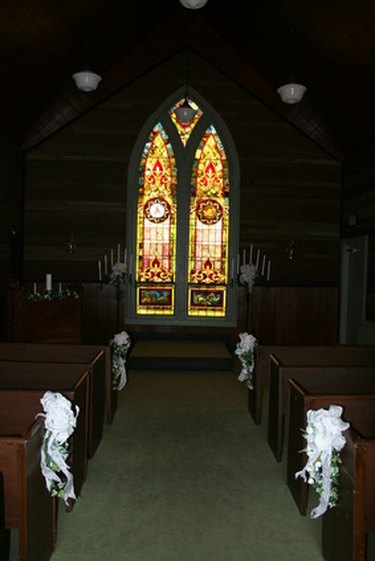 Weddings are expensive events, but now brides everywhere are taking over and planning their special day down to the very last detail. Brides on a budget will struggle or spend hours slaving over personal touches to add flair to their wedding, but don't forget the aisle! A personalized wedding aisle runner can be a special and surprising addition to a wedding ceremony that is sure to impress guests.
Step 1
Roll the entire length of muslin fabric onto the cardboard roll. Loop the decorative cord down inside the tube and out the other end, then tie the two loose ends together to create a pull cord. The cardboard tube will help keep the muslin smooth.
Step 2
Roll about a foot of fabric off of the tube. Cut a 36-inch piece of iron-on adhesive tape and lay it along edge of the fabric. Fold the end of the fabric over so that the iron-on adhesive tape has a layer of fabric below it and the rough edge rests on top. Iron the edge of the fabric so that the tape forms a clean hem.
Step 3
Flip the roll of fabric over so that the rough side of the hem is underneath. On a piece of poster board or paper, draw out the design you wish to trace onto the runner. You can write the bride and groom's names or monogram in decorative script. Or, you can create a decorative monogram on a computer and print it out on a large scale to trace.
Step 4
Lay paper towels under the muslin. Place the printed or drawn design between the towels and muslin and position it to your taste. Tape the design and fabric together so that they do not shift, and trace the design onto the fabric with a pencil. Choose a paint color that coincides with the wedding theme. Fill in the pencil tracing carefully with acrylic paint.
Step 5
Allow the paint to dry completely and roll the fabric back onto the roll. Store in a clean, dry place until the big day.
Tip
Add rhinestones or glitter while the paint is still wet.