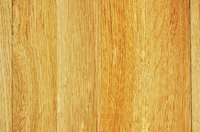 Installing wood floors brings an old-fashioned elegance to home decor. However, many homeowners have found that maintaining this type of flooring requires too much work and expense. As an alternative, manufacturers developed a wood veneer flooring. This product places a thin layer of wood over a more durable material. This layer, or veneer of wood gives the true look and feel of old-style wood flooring, but adds durability and low maintenance.
Things You'll Need
Soft-bristle broom or vacuum cleaner with wood floor attachment
Mop
Remove all rugs and items from the floor. Sweep the surface using a soft-bristle broom or a vacuum cleaner with a wood floor attachment.
Wipe the floor using a damp mop and clear water. Mix a bucket with 2 gallons of water and 2 tbsp. of dish soap to scrub heavily soiled areas. Rinse with a damp mop using clear water.
Repeat the process over any areas that retain soil. Let the floor dry for an hour or two before replacing items, or allowing foot traffic.