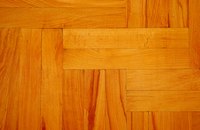 Dents occurs on hardwood floors from something heavy dropped on them, or a more common culprit, high heeled shoes. High heeled shoes leave a trail of small dents in the wearer's wake and ruin the smooth look of the floor. Steam causes wood to swell and rise to meet the rest of the floors' surface, but not on all dents and all floors. Using steam to repair dents, a tried and true method, works on some dents and not others, but how do you know if you can steam the dent out?
Things You'll Need
Examine the dent for wood splintering or splitting. Steam does not repair hardwood dents with this type of wood damage.
Check the depth of the dent. Dents deeper than 1/4 inch do not rise enough to make them flush with the existing surface.
Determine the type of hardwood floor. Engineered hardwood flooring does not respond to steam. Engineered wood floors, manufactured to resist moisture and made in layers, do not swell with the use of steam.