Things You'll Need
Bandanas

Sewing pins

Quilt batting

Sewing machine

Thread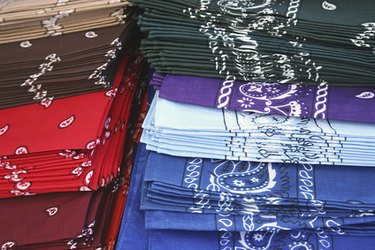 A patchwork quilt or a colorful blanket can be made from a few bandanas and a sheet of quilt batting. Cotton bandanas -- square scarves or over-sized handkerchiefs -- are historically red printed with white and black details. Today, bandannas can be found in a variety of patterns and a literal rainbow of colors. Creating a blanket using a colorful mix of standard sized, 22-inch by 22-inch bandanas will add a touch of homespun whimsy to any room.
Step 1
Wash and dry the bandanas to preshrink them and prevent them from bleeding on one another later. Iron all the squares.
Step 2
Pin the bandanas together as if they are quilt blocks, with the right (printed) sides facing. Use the appropriate number of squares to adjust the size of the blanket to meet your needs.
Step 3
Double-stitch the bandanas together in rows right inside the finished edges of each square. Stitch the rows together to form the face of the blanket. Do the same with enough bandanas to form the back of the blanket.
Step 4
Lay the quilt batting on the floor or a large, flat surface and smooth out any wrinkles. Lay the blanket front face up on top of the batting and pin the fabrics together around the edges. Trim the batting even with the outer edges of the blanket front and machine baste the layers together.
Step 5
Lay the front and back panel together, right sides facing, and pin the edges through all three layers. Sew around the edges, leaving a section of about 10 to 12 inches long open along one side..
Step 6
Pull the right side of the fabric up through the open section to turn the blanket right side out. Hand stitch the gap closed.
Tip
Top-stitch around the blanket to give it a flatter, more finished look. Matching curtains and pillows can be made to create a bedroom set.