Things You'll Need
24 inch-by-16-inch piece of cloth

2-inch-wide lace trim

Elastic

Scissors

Stick pins

Thread

Sewing machine

Ribbon in a coordinating color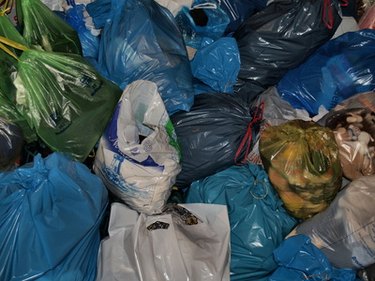 People get plastic bags from almost every store that they walk in. After a long shopping trip, you could end up with 20 or 30 plastic shopping bags. They can be reused in many ways, but you need to have some way to store them. Plastic bag holders are an easy solution for your storage needs. This bag holder will hold about 40 bags easily, and fits anywhere you can hang a nail. They are great to use, give as gifts and sell. Make one for every season or holiday to help decorate your kitchen.
Plastic Bag Holder
Step 1
Place the cloth on a flat surface with the finished side facing the flat surface. The left and right sides of the cloth are the 24-inch-long sides.
Step 2
Fold the bottom 3/4-inch toward the center of the cloth. Press it into place with a hot iron. Fold the bottom a second time the same way, and press it into place with the iron. Flip the fabric over, so the finished side is facing up. Cut two pieces of lace 18 inches long, and place the lace on the edge of the top and bottom of the cloth. Overlap the edge by 3/4 inch, and pin into place with stick pins. Sew the fabric 1/2 inch in from the edge of the cloth. Repeat this step with the top of the fabric. Remove the stick pins.
Step 4
Cut a 3-inch-long piece of ribbon. Fold the ribbon in half. Place it inside the folded edge of the fabric on the right side, 1 inch from the top. The folded side of the ribbon should be inside the folded fabric. Let the ribbon hang over the outer edge by 1/2 inch.
Step 5
Line up the right edge, and pin it into place. Make sure you pin the ribbon in place. Begin sewing 1/2 inch from the top of the fabric. Sew the edge 1/4 inch away from the pinned edge. Stop sewing 1/2 inch from the bottom. Remove the pins.
Step 6
Turn the plastic bag holder finished-side-out.
Step 7
Cut 2 pieces of elastic 12 inches long. Thread the elastic through the 1/2-inch tube at the bottom of the plastic bag holder. Pull the elastic through; line up the two ends so they are even, wrap them around your finger and tuck the ends through the loop to create a knot. Pull the knot tight. Hide the ends inside the tube. Repeat the procedure for the tube at the top. Once the knots are in, you can hang the plastic bag holder by the ribbon at the top.