Things You'll Need
Backpack (your choice)

Press-and-tear stabilizer sheet

Scissors

Craft knife

Scoring tool

Embroidery machine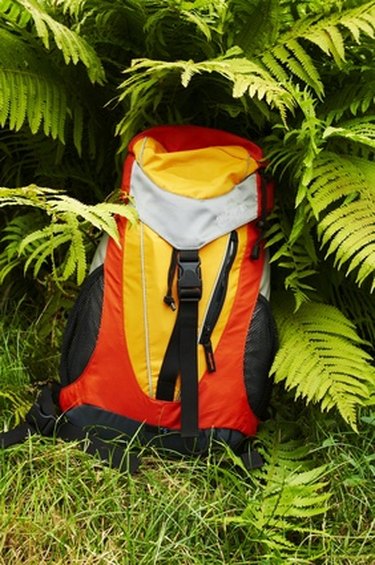 Backpack designs have changed from the traditional heavy nylon silhouette. Designers incorporate current trends by using different fabric types as well as fashion colors and trims to coincide with upcoming apparel collections. Embroidering onto these pre-constructed bags is a bit challenging because of bulky trims preventing the backpack from fitting onto the machine's hoop attachment. By using adhesive press-and-tear stabilizer sheets in hard to reach embroidery sections, the hooping process is avoided and the backpack is stabilized and ready for embroidery.
Step 1
Choose a location on the backpack for your embroidery design. Make sure you select a location free of bulky trims such as heavy zippers, zipper pulls or embroidered patches to avoid broken needles or skipped stitches.
Step 2
Cut a piece of press-and-tear stabilizer sheet larger than your embroidery design with your scissors. For example, if your design is 4 inches wide by 6 inches long, cut your sheet approximately 6 by 8 inches.
Step 3
Score the corner of the press-and-tear stabilizer with a craft knife or scoring tool on the diagonal. This sheet has a double-sided surface.The bottom surface will reveal a sticky film which will be pressed onto the area for embroidery. The top side is referred to as release paper, where the embroidery will be stitched.
Step 4
Remove the bottom sheet and position the sticky surface onto the embroidery area by pressing it with your fingers onto the backpack. Smooth out any wrinkles.
Step 5
Remove the remaining release paper carefully. The stabilizer sheet will be facing up as you insert the backpack into your machine. Make sure the press-and-tear sheet does not shift.
Step 6
Embroider your design directly onto the stabilizer sheet.
Step 7
Remove your finished embroidered backpack from your machine. Cut away all loose threads.
Step 8
Tear away the excess press-and-tear stabilizer by gently tearing the sheet around the embroidery. This sheet type tears away clean and does not leave fuzzy debris from the sheet.