Things You'll Need
Microsoft PowerPoint or equivalent

Computer

Variety of photos

Printer and paper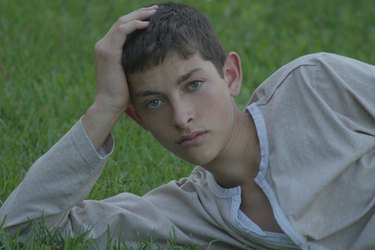 Models use composite cards to look for an agency. It is essentially a method of self-marketing. Composite cards show the model's potential and often reveal details, such as body size, measurements and weight. Composite cards are easy to make. A standard composite card is often limited to a larger head-shot, smaller shots and personal information.
Step 1
Open a new Microsoft PowerPoint document. Pick the custom blank template.
Step 2
Choose the head-shot that will become half of the composite shot. This photo should be a clean photo that shows the best assets of the model's face. The model could be smiling or not smiling, but should be in the model's natural state: the hair should be naturally set and the face should have minimal make-up.
Step 3
Choose four additional photos that show off the model's potential. The photos should show the model in different poses with different hair and make-up. While one could be bold, another could be soft. Show a variety to illustrate the model's versatility for the agency.
Step 4
Insert the large head-shot photo by clicking on the Insert button, followed by the Photo button found under the File option. Click and drag the image to the left side of the PowerPoint document. Stretch it out so it fills half of the page. Do not stretch it to the point where the photo looks fuzzy.
Step 5
Insert the four smaller photos one at a time. The four pictures should be on the second half of the document. It is a personal choice as to how the images will be presented. Leave some space at the top and bottom of the pictures .
Step 6
Fill in personal information at the bottom, including the model's height, weight, body measurements (such as bust, waist and hip), dress, shoes and pants size.
Step 7
Write the model's name at the top of the four images in a larger size of the same font as the information for consistency and so it stands out with the head-shot.
Step 8
Print the composite card when it has been edited and designed as desired.