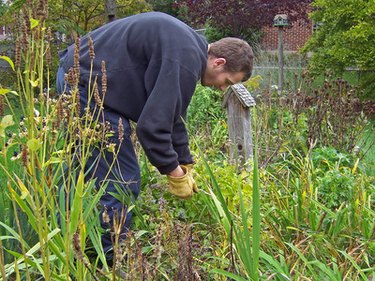 Casoron, an herbicide used as a pre-emergent, creates a vapor barrier on the soil to prevent weeds from getting through. Weeds already growing are killed if their roots are growing in the barrier. Use Casoron yearly to prevent both perennial weeds from re-establishing themselves and annual weeds from taking hold. Casoron should be kept away from established plants that have shallow roots, as these may be rooted in the barrier that Casoron creates. Casoron will not work well on weeds that have already emerged from the ground.
Step 1
Administer Casoron to the site early in the growing season, before the weeds appear, and as soon as the soil can be worked. Since Casoron works for over six months, one treatment should be satisfactory to prevent and kill weeds all spring and summer.
Step 2
Spread Casoron by hand or by a spreader, then water the treated area well. Casoron is activated by moisture. A steady rainfall or wet sawdust, mulch or clippings can also be used for to provide necessary moisture immediately after application.
Step 3
Apply Casoron at an average rate of approximately 60 to 80 lbs. per acre. You can use a little less for annual weed control; tough perennial weeds may need a stronger application.
Step 4
Prevent Casoron from getting close to plants transplanted within the previous month and from beds with seedlings. Exercise care when spreading Casoron near vegetable gardens; many vegetables cannot survive a Casoron application and may be hurt by the herbicide drifting into their growing space.