Things You'll Need
Faucet wrench

Plumbers tape

Replacement sprayer combination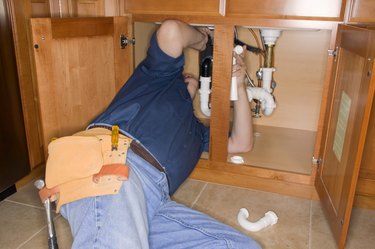 Price Pfister faucets use either a separate side sprayer or a pull-down sprayer that connects through the spout. Leaky sprayer heads or hoses require replacement. Replacing the Price Pfister sprayer is like replacing any other faucet sprayer. Price Pfister sprayer kits include the hose and the sprayer head. Replacements are available through home improvement centers and Price Pfister direct.
Step 1
Go under the sink to turn off the faucet water supply at the shutoff valves. Turn on the faucet handle to drain any remaining water in the faucet line.
Step 2
Locate where the sprayer hose connects to the faucet under the sink. Turn the hose connector on the faucet counterclockwise with a faucet wrench, then remove the sprayer hose.
Step 3
Loosen and remove the nut securing the sprayer-head holder to the sink if you are replacing a separate side sprayer. The sprayer-head holder is the decorative holder that the sprayer head sits in when not in use.
Step 4
Lift the sprayer head and the sprayer-head holder out of the top of the sink, bringing the hose with the sprayer. Pull down on the sprayer head, if you are replacing a sprayer on a pull-down faucet. Use care when pulling the hose through the spout. if the hose becomes stuck, jiggle the hose until it works loose.
Step 5
Insert the new sprayer assembly into the spout if you're replacing a pull-down sprayer. Insert the hose through the sprayer holder if replacing a separate side sprayer. Thread the hose through the sink in the hole and set the holder into the hole until the bottom of the holder is flush with the sink. The sprayer head sits on the holder.
Step 6
Wrap new plumbers tape around the threads of the faucet where the sprayer hose connects. If replacing a side sprayer, slide the holder retaining nut over the hose. Thread the nut onto the holder and tighten until hand tight.
Step 7
Thread the end of the hose onto the faucet. Tighten the hose to the faucet with a faucet wrench. Turn on the water supply to the faucet.
Tip
Some Price Pfister faucets use a quick-connect system to connect the hose to the faucet. With such a system, press down on the gray ring above the connector and pull down on the connector jacket to release the hose from the faucet.