A tape measure is one of the essentials when it comes to sewing. You will use a sewing tape measure to take measurements of people for whom you wish to sew clothing. Taking precise measurements with a sewing tape measure is important for the fit of a garment. If the sizing is off, you will have to rework the garment. It is always a good idea to hold the tape measure loosely when taking measurements, to make sure you make the garment large enough. Making a finished garment smaller is much easier than making it bigger.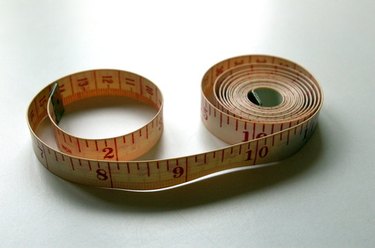 Things You'll Need
Sewing Tape Measure

Paper

Pen
Step 1
Wrap the sewing tape measure loosely around the body part you are trying to measure. Tighten the tape measure until it is taut, and make sure it is not twisted. You should be able to comfortably place one finger between the tape measure and the body of the person whose measurements you are taking. Make sure the tape measure is on the inches side and not the centimeters side.
Step 2
Write down the number that occurs when the pieces of tape measure meet after being wrapped around the person's body. Be sure to write down the part of the body to which the measurement corresponds. If it is a half measurement, move it up to the next highest number, such as 26.5 to 27.
Step 3
Take measurements around the head, the largest part of the bust, the natural waist, the upper and lower hips, each upper and lower arm, the thighs, and the knee.
Step 4
Measure the length of the person's back by holding the tape measure at the neck, and pulling it down to the person's natural waist.
Step 5
Take an inseam measurement by holding the tape measure at the crotch seam and measuring down to the floor, following the seam of well-fitted pants.